It feels like every day, a new company announces that they're offering AI-generated images as part of their core services.
Here's a comprehensive list of companies that are providing AI image generation, either as their main product or as an add-on to their existing products.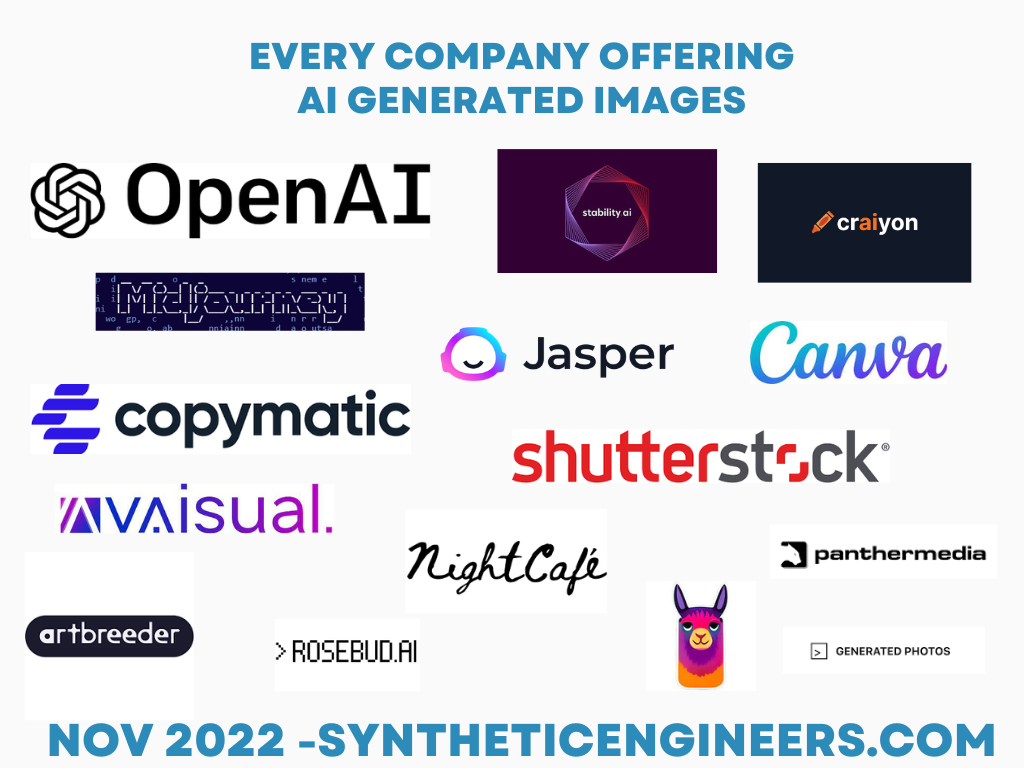 Feel free to share our infographic on social. Link to http://www.syntheticengineers.com
---
OpenAI
OpenAI is basically the company that launched the field, with their wildly popular DALL-E image generator. DALL-E is now in public beta, so anyone can sign up.
Stable Diffusion
Stable Diffusion offers a latent diffusion image generation model that's similar to DALL-E, but that can run on a consumer computer. That means you can run your own image generation system locally–if you know how to set it up!
Stable Diffusion also has an online version of their model that you can use for free.
Midjourney
Midjourney is another organization that offers a diffusion-based image generator. Some people think that Midjourney's output is even better than DALL-E's. The catch? Getting started is tricky and currently requires using a Discord channel.
Craiyon
Craiyon used to be DALL-E mini. It's now a free online image generator that you can use to generate images similar to those from DALL-E. It's laden with ads and takes forever, but it's a good solution if you're looking to experiment with AI images quickly and for free.
Canva
Canva is a wildly popular service that allows anyone to create high-quality designs for anything from a website, to a flyer, to a social media post. Canva is now baking free AI image generation capabilities directly into their core design offerings.
Jasper
Jasper is a popular service that many SEOs love to use to write AI-generated content for their blogs or social channels. I'm on the fence about AI-generated web content, but Jasper has recently expanded their offering to provide AI-generated images, too.
Copymatic
Copymatic is another AI-drven content writing service. They've recently begun to offer AI-generated images in the same vein as Jasper.
Shutterstock
This one is huge! Through a partnership with OpenAI, Shutterstock is getting ready to launch Shutterstock Generate, which will allow customers to make their own AI-generated images right on the Shutterstock site.
The system is currently allowing customers to join a waitlist, so it's not live yet. When it does go live, though, it will be a huge deal for the world of stock photography.
VAIsual
VAIsual offers AI-generated images, and they're unique in that they're training their generation systems using wholly owned data. Mark Milstein told Synthetic Content about it here.
Panthermedia
Panthermedia offers VAIsual's images for sale alongside the company's other visual content. They were among the first companies to begin licensing synthetic images.
Nightcafe
Nightcafe specializes in creating AI-generated art, which you can then print out and hang on your wall. Computers can create some amazing art pieces, and Nightcafe is building on that to let you make one-of-a-kind objects for your home.
Artbreeder
Artbreeder is one of the OG AI-generated images companies. The company caters to artists, allowing them to upload images and use AI to combine the images together or build on them in creative ways.
Rosebud AI
Rosebud is an AI image generation service with a strange, counter-cultural vibe. You'll find lots of 8-bit art and dark color schemes on the company's site. One of their coolest tools is a system that lets you animate the face in a photo using your own face as a guide.
Alpaca
Alpaca aims to let humans and generative AI work together within Photoshop. Basically, the AI can create images, which a human can then edit collaboratively and build upon.
Wepik
Wepik lets you generate AI images to use within the company's designs. They're part of Freepik. In addition to offering AI generation capabilities, they also have prompt examples that can help guide your generations.
---
Am I missing a company? Email me at tom@gadoimages.com to let me know.